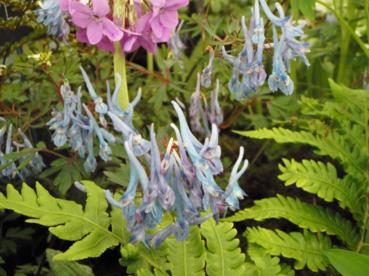 Corydalis flexuosa 'Pere David'
Corydalis flexuosa 'Pere David' is a mound forming perennial with bright electric tube-shaped blue flowers in late spring(March-May) and early summer.  Divided fern-like leaves are light green and shiny.  Best in a moderately fertile, humus rich reasonable soil in part-shade.  Ideal for rock areas, raised beds or underplanted around shrubs.  Approx.  25-30cm x 25-30cm.In a 2 litre pot.
NB.  This plant is summer dormant so will lose its foliage.  It might be safer to mark where it is planted.
Looks good planted with:-  Pink primroses, pale lemon flowers such as wild primrose, white flowered Dicentra.
Annuals: Perennial
Architectural: No
Cultivar: Pere David,
Deciduous: Deciduous
Flower Colour: blue
Foliage Colour: green
Genus: Corydalis
Species: flexuosa