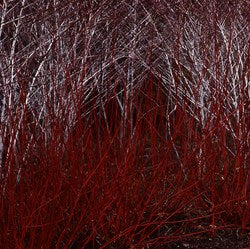 Cornus alba 'Sibirica' AGM
Cornus alba sibirica AGM is a variety to create interest in the garden in the darker months of the year with bright red stems in winter and red leaves in autumn. Prune back each year in late spring to produce the best stem colour each year. Best in full sun in reasonable soil.
Pruning tip.
If you want to keep some height on your Cornus try pruning on a 2 or 3 year cycle.  Prune half or a third of the stems so that you will continue to have good colour and leave the other stems full height.
3 litre pot
Collection only