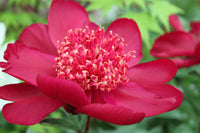 Paeonia lactiflora 'Nippon Beauty'
Paeonia lactiflora 'Nippon Beauty' has single purple-pink to red flowers with petals tipped yellow and yellow stamens.  It is a heavy bloomer whose single flowers do not droop after rain.  Grows to approx. 90-95cm x 90-95cm.  Dark green leaves.  Flowers late spring - midsummer.  Fragrant flowers.  Best in deep humus rich soil in sun.  Attracts butterflies.  Planting is important as Paeonias do not flowers if planted too deeply.  Make sure plant is just under the soil surface.
Collection only.  Paeonias can be ordered bare rooted between October & March postage free.